---
The Encounter with The Yellow Jacket
::The past couple of days, i have not been feeling myself after the nasty encounter with the 'yellow jacket' Having to limp around with my 'wounded' right foot certainly added to the discomfort and soreness and accounted for grouchy me. The last encounter i had with one of those nasties was many years ago and that resulted in a swollen left foot and even to this day, i have a small nodule with the stinger inside as a reminder of that encounter.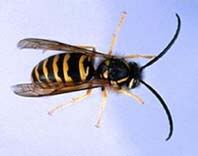 A picture of the 'nasty'
This second encounter happened in the wee hours of the morning, upon stepping my bare foot on the doormat, there was sharp painful sensation on my right sole. In a flash i recognised it as another encounter with the stinger of a yellow jacket. i next proceeded to carefully scrape the stinger with the edge of a credit card, this is said to be the best way to remove a stinger so as not to inject more venom into the wound, more about this later. Next on getting into the house, i headed for the kitchen to get some meat tenderiser, which is said to be great for neutralising the venom. Literally bathe the point of stinger entry with liberal amounts of meat tenderiser soaked in cotton wool. Virtually spent the rest of the sleeping hours awake as i was expecting signs and symptoms of any possible systemic reaction to the venom.
|