I Crawl to School
Student A :: "I come to school by walking...."
Teacher :: "
NO!
"
Teacher :: "I
walk
to school!"
Teacher again :: "How do you come to school, Epit?"
Epit :: "I crawl to school..."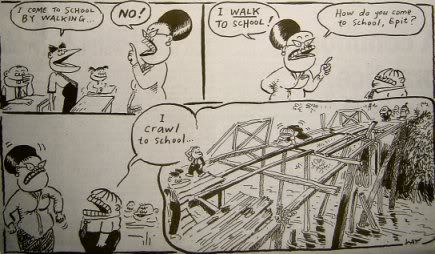 On hearing that Epit crawls to school.

Someone

was so upset that he cried and soon vowed that much had to be done.

But soon realising that he was no longer on

HoneyMoon

, he quickly

dried

his eyes. To Epit and his mum, he said :: "Don't worry as the HoneyMoon is over, just see me and friends perform."

And he soon got down to

work

. But why are the others only just observing?

Lo and behold, Epit no longer had to crawl to school for he had

this

soon enough. Thanks also to

him

too.

A few years later, it was once again, time to

vote

so out came the

poster of old

but will the guy on his right be there? For someone has written that its

KJ, Bakal PM?



And once again, he won handsomely, collecting all 99% of the popular votes this time around. The only opposition left could only be him. And this guy finally realising that he was no longer needed did what he was quite good at.
|